Eagle Well Servicing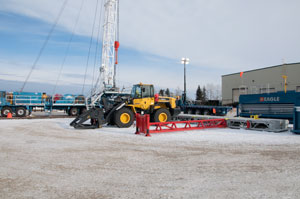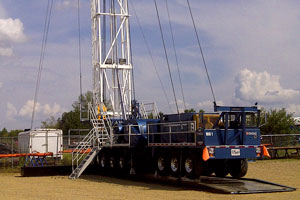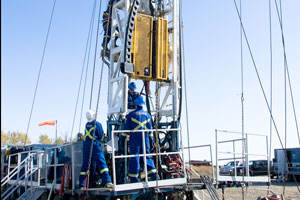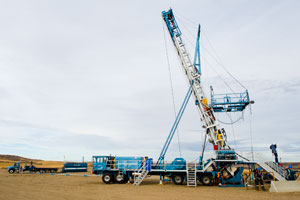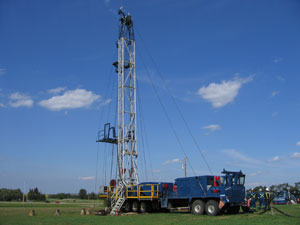 Eagle Well Servicing operates a newly built fleet of 63 mobile internally guyed single, double and slant service rigs from operations centres in Red Deer, Grande Prairie, Lloydminster and Estevan. From these operation bases, the reach of our rigs expands into all key Western Canadian Sedimentary Basin Oil and Gas plays. Our goal is to provide the best in the industry by deploying one of the newest lines of equipment in Western Canada. All of our rigs have been built new since 2004 which mean industry leading innovations to meet the changing demands of our customers, and more efficient and safe operations to save time and money.
Eagle believes that Safety always comes first. From design of our rigs, to our office, to well site, we are committed to safety in all areas of well servicing for employees and customers alike.
Rig Specifications
| Rig | Type | Cap (m) |
| --- | --- | --- |
| Rig 01 | Internally Guyed Double | 4,200 |
| Rig 02 | Internally Guyed Single | 2,800 |
| Rig 04 | Internally Guyed Double | 3,800 |
| Rig 05 | Internally Guyed Single | 2,800 |
| Rig 06 | Internally Guyed Single | 2,800 |
| Rig 07 | Internally Guyed Single | 2,800 |
| Rig 08 | Internally Guyed Double | 3,800 |
| Rig 09 | Internally Guyed Single | 2,800 |
| Rig 10 | Internally Guyed Single | 2,800 |
| Rig 11 | Internally Guyed Single | 2,800 |
| Rig 12 | Internally Guyed Single | 2,800 |
| Rig 14 | Internally Guyed Double | 3,800 |
| Rig 15 | Internally Guyed Double | 3,800 |
| Rig 17 | Internally Guyed Single | 2,800 |
| Rig 18 | Internally Guyed Single | 2,800 |
| Rig 19 | Internally Guyed Double | 3,800 |
| Rig 20 | Internally Guyed Double | 3,800 |
| Rig 21 | Internally Guyed Double | 3,800 |
| Rig 22 | Internally Guyed Double | 3,800 |
| Rig 23 | Internally Guyed Double | 3,800 |
| Rig 24 | Internally Guyed Double | 3,800 |
| Rig 25 | Internally Guyed Double | 3,800 |
| Rig 26 | Internally Guyed Single | 2,800 |
| Rig 27 | Internally Guyed Single | 2,800 |
| Rig 28 | Internally Guyed Single | 2,800 |
| Rig 29 | Internally Guyed Double | 3,800 |
| Rig 30 | Internally Guyed Double | 3,800 |
| Rig 31 | Internally Guyed Double | 3,800 |
| Rig 32 | Internally Guyed Double | 3,800 |
| Rig 33 | Internally Guyed Double | 3,800 |
| Rig 34 | Internally Guyed Double | 3,800 |
| Rig 35 | Internally Guyed Double | 3,800 |
| Rig | Type | Cap (m) |
| --- | --- | --- |
| Rig 36 | Internally Guyed Double | 3,800 |
| Rig 37 | Internally Guyed Double | 3,800 |
| Rig 38 | Internally Guyed Double | 3,800 |
| Rig 39 | Internally Guyed Single | 2,800 |
| Rig 40 | Internally Guyed Single | 2,800 |
| Rig 41 | Internally Guyed Single | 2,800 |
| Rig 42 | Free Standing Slant | 2,600 |
| Rig 43 | Free Standing Slant | 2,600 |
| Rig 44 | Internally Guyed Single | 2,800 |
| Rig 45 | Internally Guyed Single | 2,800 |
| Rig 46 | Internally Guyed Single | 2,800 |
| Rig 47 | Free Standing Slant | 2,600 |
| Rig 48 | Internally Guyed Double | 3,800 |
| Rig 49 | Internally Guyed Double | 3,800 |
| Rig 50 | Free Standing Slant | 2,600 |
| Rig 51 | Free Standing Slant | 2,600 |
| Rig 52 | Free Standing Slant | 2,600 |
| Rig 53 | Free Standing Slant | 2,600 |
| Rig 54 | Free Standing Slant | 2,600 |
| Rig 55 | Internally Guyed Skid Double | 3,800 |
| Rig 56 | Internally Guyed Single | 2,800 |
| Rig 57 | Internally Guyed Single | 2,800 |
| Rig 58 | Internally Guyed Double | 3,800 |
| Rig 61 | Internally Guyed Single | 1,900 |
| Rig 62 | Internally Guyed Single | 1,900 |
| Rig 63 | Internally Guyed Single | 1,900 |
| Rig 64 | Internally Guyed Single | 1,900 |
| Rig 65 | Internally Guyed Single | 1,900 |
| Rig 67 | Internally Guyed Single | 1,900 |
| Rig 69 | Internally Guyed Single | 1,900 |
| Rig 131 | Internally Guyed Single | 2,800 |